Clergy and Company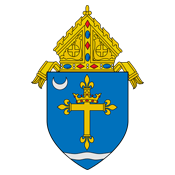 Team Information
---
Clergy and Company
Clergy are the bishops, priests, and deacons of the Catholic Church.
And Company?
The Bishop, Priests, and Deacons have their team rounded out by a few ringers from among the lay faithful.
Victory Song
When the Clergy leverage the grace of Orders and their ringers to their inevitable victory this will be their hymn of celebration. The words in latin, "non nobis Domine, non nobis, sed nomini tuo do gloriam," in English "Not to us, Lord, not to us, but to your name give the glory." God deserves all the glory!
Coach
Bill Faherty
The Players
| Name | # | Home Parish |
| --- | --- | --- |
| Rev. Drew Burkemper | 1 | Holy Infant |
| Tom Eichwald | 2 | St. Joan of Arc |
| Rev. Kevin Schroder (C) | 3 | Incarnate Word |
| Nick Lee | 4 | All Souls |
| Nathan Doerr | 5 | Cathedral Basilica |
| Rev. Michael Grosch | 6 | St. Michael the Archangel |
| Michael Horn | 7 | St. Anthony of Padua, South City |
| Jeff Geerling | 8 | Curé of Ars |
| Rev. Tim Foy | 9 | St. John the Baptist, Gildehaus |
| Rev. Anthony Gerber | 10 | St. Theodore, Flint Hill |
| Rev. Brian Fallon | 11 | Office of Vocations |
| Brandon Durk | 12 | |
| Andrew Shipp | 13 | St. Alban Roe |
| Napoleon D'Cunha | 14 | |
| Rev. Zac Povis | 15 | Assumption, O'Fallon |
| Kyle Huelsing | 16 | |
| Rev. Paul Hamilton | 17 | Sacred Heart, Florissant |
| William Faherty | 18 | St. Joseph, Cottleville |
| Rev. Robert Murphy, S.J. | 19 | Saint Louis University |
| Zeus Hernandez | 20 | Immaculate Conception, Dardenne |
| Deacon Padraic Stack | 21 | Ascension, Chesterfield |
| Rev. Chris Martin | 22 | Office of Vocations |
| Rev. David Voss | 23 | |
| Andrew Struttmann | 24 | |